check out our outerwear collection!
Free shipping on $35 order
SAME DAY SHIPPING!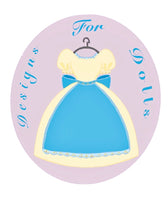 About Designs for Dolls
Designs for Dolls is a Pennsylvania home-based company creating quality handmade clothes for your favorite American Girl style dolls. Many designs are one-of-a-kind and are made with a grandma's love in a smoke-free and pet-free environment. You will find a few carefully chosen readymades and a large selection of shoes and accessories. Free shipping on $35 orders. Orders ship within 24 hours.
Logo artist: Erica Morgan
Leave Us a Review!
Reviews are highly beneficial to our business.     
When you submit a review, we'll send you a discount code
for $5 off your next order!
Please send your review to designsfordolls@yahoo.com. Thanks! 
(Note: Facebook reviews will not receive discounts, but we still appreciate them!)